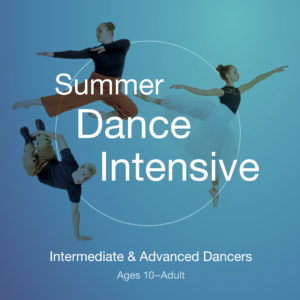 August 12-16, 10am-4pm
Ages 10 to Adult
At least 3 years of Ballet & 1 year of Modern, Contemporary or Jazz required
Open to any dancer in or outside of Cavod Academy of the Arts
Closing performance for family and friends on August 16, 7:00pm
Join us for a week long dance intensive of rigorous training in Ballet, Modern, Contemporary, Hip-Hop, Jazz, and other various dance forms geared towards intermediate to pre-professional level dancers. Students will grow in their technique, artistry, and overall confidence while taking class and learning repertoire from professional teachers and guest artists, both locally and nationally known. Dancers will close out the week performing a showcase of guest choreography and dance compositions they have created.
Camp Cost
$300 Early bird discount if paid in full by June 1st, 2019
$330 After June 1st, 2019
Drop in classes are $17 each.
*$75 non-refundable deposit due upon registration to reserve your spot. Space is limited!
Register for Summer Dance Intensive
Dress code
Ballet – solid color leotard, pink tights & Ballet shoes (pointe shoes optional, boys – solid t-shirt & black dance pants).
Modern/Contemporary/Jazz – solid color leotard, leggings or dance shorts & barefeet (jazz shoes optional for Jazz).
Hip-Hop – see above but layers such as sweatpants/t-shirts are ok. Please no sneakers that are worn outside, bring specific in-studio hip hop shoes.