Expired

Cricket on the Hearth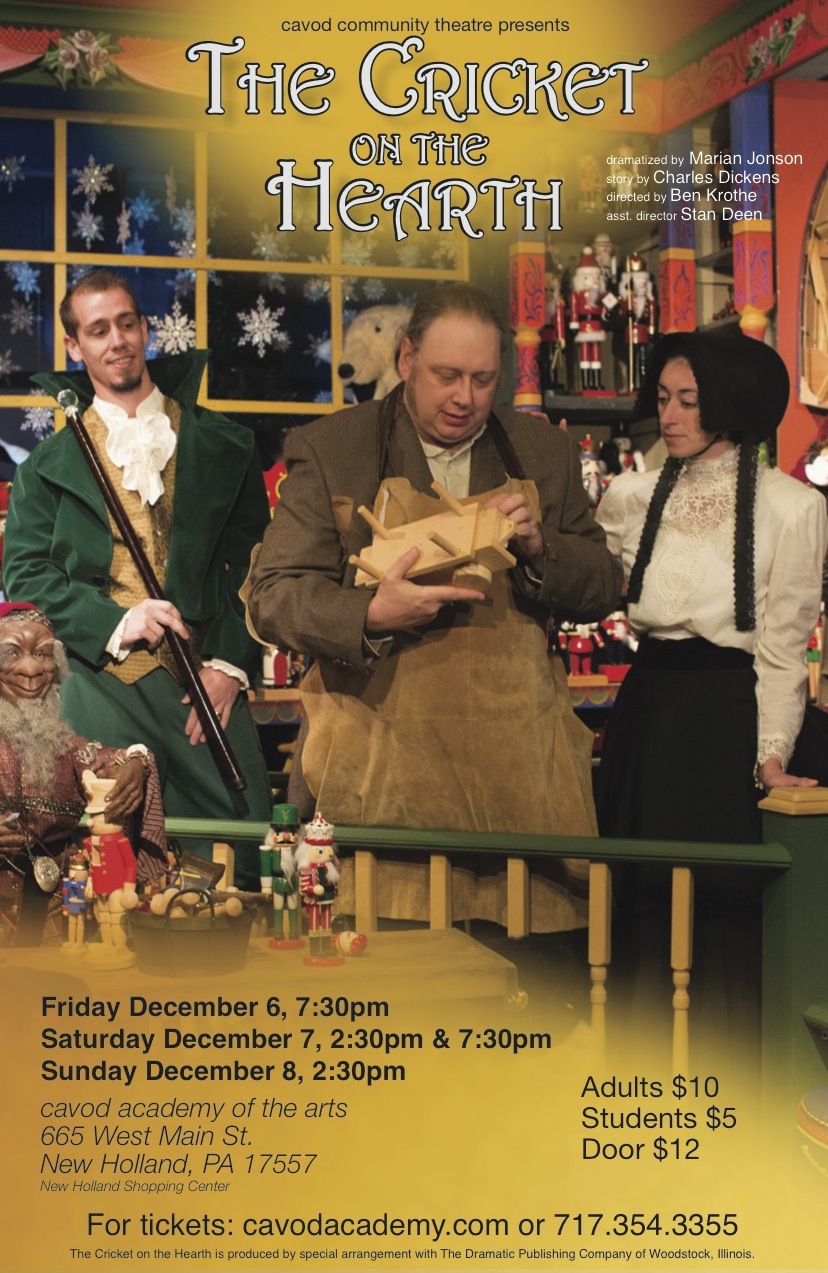 To have a cricket on your hearth brings great good luck. So goes the old folk belief. But it does not appear true for Caleb the old toymaker and his blind daughter Bertha. For the cricket on the hearth of their wonderful toy shop is a peppery-tempered, interfering sort of chap. Nevertheless the cricket is willing to help Bertha in the most important search of her life—finding the truth. With the aid of the cricket and a magic toy harp, Bertha does at last find the secret … within her own heart.
Meet the Cast
Candace Arndt (Bertha)
Candace is pleased to join the happy family and perform as a friendly face at Cavod! Previously, she has slunk across stage as both the White Witch and The Wicked Witch of the West. She has also performed in Cheaper By the Dozen (Gretna Theatre), Ragtime and20,000 Leagues Under the Sea (York Little Theatre), and Deck the Halls and Clean the Kitchen (The Rainbow Dinner Theatre). Off stage, Candace teaches middle school English and directs plays at Lancaster County Christian School. Many thanks to her students, LCCS faculty and staff, Cavod Performing Arts, her family, and to God for all of these opportunities to learn and to share His truth and love through theater.
Nancy Dolan (Mary Peerybingle)
Nancy Dolan, a New Holland "Newbie,"  has performed in over 30 stage productions throughout the Delaware Valley.  Favorite roles are Daisy in Driving Miss Daisy, Aunt Abby in Arsenic and Old Lace, Lettice in Lettice and Lovage, Madam Arcati in Blithe Spirit, Betty in The Foreigner, Dolly in The Grass Harp, Vera, The Odd Couple, Female Version.  She has appeared in many national TV ads, Forensic Files, QVC, training films, independent movies and print work.  She's most proud of raising almost $15,000 for charities with a monologue from Three Viewings. Nancy has won three Best Actor Awards and the YWCA Outstanding Woman of the Year – The Arts.  Extremely active, she's also been an international tour leader for 24 years.  Happily married to John for 51 years, she's the proud mother of 4, grandmother of 7.
Hailey-ann Harlan (Toy- Peasant Doll)
Hailey-ann is 9 years old. She is in 4th grade at Reamstown Elementary. She enjoys acting, singing, piano, flute and karate. She first fell in love with acting two years ago during her production of Jonah at Sight and Sound Theatres. She then continued her acting with cavod community theater during The Jungle Book and Wizard of Oz.
Rachel Harlan (Toy- Peasant Doll)
This is Rachel's first acting production. She enjoys to dance. She takes classes at The Dance Studio in Ephrata. She has performed ballet, tap and hip hop. Her favorite of the three are tap and hip hop. She is 7 years old. She is in 2nd grade at Reamstown Elementary.
Matthew Harlan (John Peerybingle)
This is Matt's first production acting with Cavod Theater. He went to pick up his daughters from their audition and his two daughters showed them their beautiful eyes and begging words of please….. convincing him to audition also. He is a Karate instructor at the Ephrata Rec Center and works for NRG Controls in Harrisburg. He is a Kid Communicator, Kid Worship Leader, and a Small group Leader in his local church at Ephrata LCBC.
Eric Hildebrand (Mr. Tackleton)
Eric is delighted to be in another Cavod production. He was previously in The Music Man, Seven Brides for Seven Brothers, It's a Wonderful Life, The Lion, The Witch, and the Wardrobe, and The Wizard of Oz. He looks forward to putting on a great show with a great cast!!
Philip Lapp (The Cricket)
Philip Lapp is enjoying his second show as a part of cavod community theatre after his debut in the The Lion, The Witch, and The Wardrobe last season. Lapp has been involved in stage theatre from the age of twelve, appearing in shows both recreational and professional. By day he works in the precast concrete industry and enjoys spending time with his wife and three children. Lapp would like to thank Ben Krothe for his hard work in bringing the "Cricket" to life and most of all his wife, Jess, for her never ending love and support.
Aaron Maier (Toy- Guardsman)
Aaron enjoys being active. He has taken gymnastics for 7 years at Positive Fitness and is in his second year of hip hop at Cavod Performing Arts. He has participated in several shows through The Learning Station Co-op including Stone in the Road, Sermon on the Mound, and Homeschool Rocks. Aaron played the role of a wood nymph in The Lion, The Witch and The Wardrobe. This will be Aaron's second year with cavod community theatre.
Mike Martin (Boxer, a dog)
I am 13 years old and I am an eighth grader at Garden Spot Middle School. I am very excited to be in my third full-length play. I am even more excited to be playing a dog. I look forward to all the fun experiences I will have. You will be seeing me again in future productions!
Kyle McCleary (Edward)
Kyle is very excited to be back once again at cavod community theatre. Other roles you would have seen Kyle play were Ernie in Its a Wonderful Life, Leopard in The Lion, The Witch, and The Wardrobe, Mayor of Munchkinland in Wizard of Oz, as well as Ensemble in Where's Charley. Look for him again in the upcoming production of Peter Pan production playing a Pirate and an Indian. Other companies Kyle has performed in were, Guys and Dolls with EPAC, Tosca with Lancaster Opera Company and  multiple shows at Sight and Sound Theatres usually "attached" to an animal. Kyle would like to thank his friends and family as well as all the supporters of theatre. You are what made this night happen!
James Paxson (Caleb)
James has been seen throughout the region over the last twelve years in numerous productions with area theatres such as Opera Lancaster, The Ephrata Performing Arts Center, The Susquehanna Playhouse in Marietta, and cavod community theatre just to name a few. His recent productions with Cavod have included The Wizard in The Wizard of Oz and Aslan in The Lion, The Witch, and The Wardrobe. A homeschooling parent, he thoroughly enjoys the mission of helping to build a community theatre group that presents shows which can be viewed and performed in by the entire family.
Nathan Todd (Toy- a soldier)
Nathan is excited to be part of his sixth cavod community theatre production. He has taken classes in Theatre, Hip-Hop, Tap, Ballet, Gymnastics, Worship Dance, Physical Theatre, Modern, Jazz, and Contemporary. His theatre credits include Anne of Green Gables, The Choice, The Sound of Music, A Christmas Carol, The Music Man, It's a Wonderful Life, It's a Wonderful Life the Musical, Beauty & the Beast Jr., The Lion, The Witch, and The Wardrobe, The Jungle Book, and The Wizard of Oz. Nathan is a home schooled junior who is passionate about the performing arts.
Ric Weaver (Toy- Haymaker)
I am a homeschooler in 9th grade. I like to sing and hang out with friends. I have worked with Cavod in the production of The Wizard of Oz. I will be in Cavod's next production, Peter Pan, as John Darling. I am so excited and honored that Cavod has let me have the chance to perform with such talented people.
Abi Weaver (Toy- Milkmaid)
Abi is homeschooled and in the fifth grade. Abi loves to sing, read and go to the barn where her favorite thing in the world lives… Her horses. Abi joined Cavod because she wants to share her God given gift of singing. She was in her first show, The Wizard of Oz, as a munchkin and will be an Indian in Peter Pan. When asked what she wants to be when she grows up her answer is always "a horse girl".
Jacquei Weaver (Toy- Milkmaid)
Jacquei is a homeschool graduate. Jacquei loves singing, being with family and spending time with her cats at the barn. This is her debut show and she is going to be an Indian in Peter Pan. She looks forward to all the smiles and hugs she gets when her friends at Cavod greet her and help her feel special. Thank you Cavod family!
December 6, 2013




7:00 pm - 10:00 pm
We're sorry, but all tickets sales have ended because the event is expired.
Directions to Cavod Theatre
Manheim:
Start on Fruitville Pike and go northeast for 4.8 miles (approx. 9 min).
Turn right onto W Millport Rd and proceed southeast for 2.4 miles (approx. 4 min).
Merge onto PA-722 E and follow for a portion of the route.
Continue on Quarry Rd for a stretch.
Follow PA-23 E/W Main St heading east for 11.4 miles (approx. 21 min) towards New Holland.
Turn into New Holland Shopping Center, and arrive at your destination, Cavod Performing Arts, 665 W Main St, New Holland, PA 17557.
Downtown Lancaster:
Begin northeast on PA-462 E/E King St/Lincoln Hwy E toward N Christian St and continue for 1.9 miles.
Turn left onto PA-340 E/Old Philadelphia Pike and drive for 1.7 miles.
Make a left turn onto Horseshoe Rd and continue for 4.7 miles.
Proceed onto Glenola Dr for 0.2 miles.
Turn right onto PA-23 E/E Main St and follow for 3.8 miles; AutoZone Auto Parts will be on the right after 3.2 miles.
Turn into New Holland Shopping Center, and arrive at your destination, Cavod Performing Arts, 665 W Main St, New Holland, PA 17557.
Ephrata
Start southeast on US-322 E/W Main St toward S Church St, passing by Taco Bell on the left after 1.7 miles, for a total of 1.8 miles (approx. 9 min).
Continue straight onto US-322 E for another 2.0 miles.
Turn right onto Farmersville Rd and drive for 0.5 miles (approx. 52 sec).
Turn right to stay on Farmersville Rd/T779 and proceed for 0.3 miles.
Continue onto N Shirk Rd for 3.3 miles.
Turn left onto W Main St/New Holland Pike and go for 0.2 miles.
Turn left into New Holland Shopping Center, and arrive at your destination, Cavod Performing Arts, 665 W Main St, New Holland, PA 17557.